What Our Clients Are Saying
Read what our clients are saying about our amazing team. You will get a good idea of the values that we at Global Estate Agency Inc. believe in.
Carianne
Kaleb worked very hard to find a place for me that I would be happy in and I am so grateful for that . I wouldn't have found an apartment this beautiful without his help. His communication skills are wonderful.
Sam & Jenelle
After seeing an ad online for a new apartment, we immediately contacted Kaleb & team to arrange a viewing. All communication from start to finish was very quick and thorough, with many conversations being had outside of normal working hours. We also needed to make adjustments to the lease and that was done very promptly as well. Very professional service overall.
Monique J
Junior Sparks came highly recommended by a good friend of mine. He and his team were extremely professional in their approach to having our property rented. Once he understood what our expectations were, Junior moved with haste and efficiency in putting together the rental portfolio which included not only photos but a video of the entire property. We were particularly impressed with the feedback that he and his team provided after each visit to the property by a client. We recommend Junior and his team without hesitation.
Pietrick V.
Moving to Barbados from Germany, Junior and his team made my search and my move a smooth process. When having online visits, Junior made sure that the whole house was seen. I was myself surprised to see how seriously he was taking this visit despite being online. Junior asked the right questions to understand the type of houses I need. When going through the lease agreement with the landlord, again, this has been a smooth process and all was done as promised. I definitely recommend Junior and his team if you are looking for a property but also if you are looking for a team who will try their best to meet your needs and wishes.
Ina & Wendy
My sister watched an episode of House Hunters International featuring Junior Sparks. My property had been listed with another real estate agency for over a year with no offers. Switching agencies was the best decision. Junior and Giselle were the best to work with. They kept me up to date with feedback from potential buyers and provided me with the details of their strategy to help get my house sold. They kept me up to date through the whole process. I can't say enough good things about my experience. Giselle got my property sold. Thank you. Highly recommend. Don't waste time with another agency. Junior's team will work hard for you.
Headley
I had a great experience with Kaleb Gibbs, Real Estate Agent with Global Estate Agency. Me and my husband recently used Mr Gibbs to assist us in finding a new tenant for a rental house. He was very efficient, professional and was successful in finding a new tenant for us. He worked quickly and kept us up to date with the process. I highly recommend Kaleb Gibbs and Global Estate Agency if you need any real estate help.
Nicole
A phenomenal team to say the very least. We worked with Global Estate Agency in the past and this time wasn't any different. Giselle took care of everything on our behalf effortlessly. Very professional! Very knowledgeable! I recommend this team without any hesitation.
Michael
Wow, wow and wow. I would certainly like to say a huge thank you to Junior Sparks and Giselle at Global Estate Agency. They stand out as the real meaning to a professional team. Giselle went beyond her duties to make sure things went well with my property. I certainly owe her a drink. I would wholeheartedly recommend GEA to take care of your needs. A superb team, keep up the good work.
Paul Bailey
Having just purchased through Global Estate Agency, it was nice to deal with a very professional and friendly company! Always returned my calls! Answered any queries promptly and worked hard to hurry things along! Breath of fresh air!
MTH
It was an honor to have worked with this professional team at Global Estate Agency Inc. I had listed my property for two years without finding a tenant. As life inched back to normal post pandemic in 2022, I decided to find a new agency and was referred to Global Estate. I could not have been more pleased. From the first encounter with this team, I sensed a level of enthusiasm that was unmatched in my prior interactions with realty companies. Within a short time of making the contact, an appointment was scheduled to meet with the team. The team listened to my preferences and suggested professional advice based on its expertise and the housing market in Barbados. Within a few days of listing the property, there were several appointments scheduled to show the property and I was given frequent updates of the status. A tenant was found matching my specific criteria within two months of the listing. Giselle Duff exhibited deft professionalism and "follow though" that exceeded all my expectations. It was truly a pleasure working with her.
Frederick A Walcott
Dear Junior at Global Estate Agency Inc. Thank you and Raquel for the fantastic work you have done for me and for every extra step you took on every mile of my house rental journey. I could not have done it without your assistance, patience and expertise. I am extremely grateful to have worked with you as my agent. Thank you!
Deirdre A.
From inception Junior made the process so easy. He came highly recommended and working with him has been a pleasure. He is warm, knowledgeable and engaging. With each proposed update, there was an explanation and if I needed more clarity or information, it was readily given. From listing to closing, I had a wonderful experience with Junior and his team at Global Estate Agency. I highly recommend him. Keep up the good work!
Margaret I.
Junior is an amazing individual, and it was absolutely a joy working with him. At the very inception our conversation was off the chart and allowed me the freedom to express my views and expectations. I was particularly impressed with his knowledge, experience and candid advice on the sale of the property. The process was quick, flawless, and transparent from beginning to end. I would again form a sales partnership with Junior Sparks and his company Global Estate Agency.
Angela Reifer
Junior from Global Estate Agency is extremely professional and reliable with a sound knowledge of the real estate market in Barbados. I received good advice as a result of his vast experience in the business and this was instrumental in helping me to make decisions as it related to pricing. I listed my property with his agency and within 5 days we had an offer! The entire process from start to finish was seamless thanks to his experience and professionalism. I would highly recommend him and Global Estate Agency for honesty, integrity and first class service.
Patric
I had a great experience dealing with Junior and team. Very professional and responsive, he even gave me a virtual live tour of the property before I arrived on the island to see if it's a good fit. Top notch service from A-Z!
Sandra
Junior and his team are fantastic. Junior helped us rent our house out a few years ago with a lovely family who were very good tenants. They left this year and again true to form Junior has quickly found new tenants. His advice has been invaluable, he is so knowledgeable, approachable and friendly. I have recommended his services to many people. Keep up the good work :)
Mark F
Junior was extremely professional and took the time to understand exactly what our family was looking for. He is very professional and has a deep knowledge of the Barbados real estate market. Junior was able to give his experienced input into some of the finer points of the rental and aided both parties to reach an agreeable conclusion. I would not hesitate to recommend Junior's services.
Michele
After navigating my way through much turbulence in the world of real estate agents, I stumbled upon Junior and Global Estate Agency. What a breath of fresh air! Junior took the time to understand my needs and has matched them with quality tenants, with whom I have had no issues. I particularly admire Junior's work ethic and his honest opinions. He has been my exclusive agent for the last 3 years and I would unhesitatingly recommend him to anyone who is looking for an agent who understands the business and gets the job done in quick time.
Pamela
Junior is an absolute gem in the real estate business. He is professional, reliable and delivers results quickly. I had the opportunity to work with him on 2 occasions, in 1 case I was not in Barbados and he managed the deal seamless. I would use him again and highly recommend him to anyone who has need for realtor.
Anita Hinds
It has been my pleasure to conduct business with Junior over the past 10 years or so. His professionalism and integrity was quite evident from our first meeting. His technical knowledge and advice in the field of real estate gave me a sense of confidence in dealing with prospective tenants. Junior walks you through the process and remains in constant communication relative to the feedback of prospective tenants. He has the uncanny ability of linking the personalities of you and the tenant, which has saved me a lot of stress. He is the only person I refer to anyone who has real estate needs. I highly recommend him without hesitation or reservation.
Karen W
Junior is a true professional! He understands his clients' needs and ensures he delivers. I have used Junior for my properties for many years. He knows the market and will do his best to ensure that his clients are satisfied. He listens and offers great advice. He is a genuine, amicable individual. I use him exclusively and he is my only referral to others for everything real estate. I recommend him without hesitation or reservation!
Gregg and Nicole
Junior was an absolute pleasure to work with. In no time at all he found great tenants for us. He took the stress out of the equation!
Chelston B.
What can i say, you provide an outstanding service which leaves the client satisfied.

Anita & Joyce
As a UK resident with a rented property. I was introduced to Junior, this was back in February 2008. I received total outstanding property management. I was regularly updated on all aspects of management - all bills were paid promptly e.g insurance, land tax, grass cutting etc. unlike previous very unreliable agents and money was banked. Truly excellent service even when some renters were reluctant to pay. The house now went up for sale, with the market being very slow Junior organised and held 'open house' this gained a lot of interest and has led to the successful sale. Having now finally completed. (Delayed by Covid 19) I am sending a very big 'thank you' for all the very hard work leading to the house sale. We are fully aware that it was totally your determination and patience propelling the potential buyers towards the purchase. Thank you again for not giving up on us. When we can travel safely, we have to catch up in Barbados. For now, continue the excellent work you are doing. I will always recommend Global Estate Agency for total honesty and professionalism.
Heather Blades
After contacting a few real estate agents with no success, Junior was recommended by a friend. Not being available to meet him in person, I directed him to my sister. She was very impressed with Junior's professional presentation at the first meeting. He listens to you and gets a good understanding of you as a person. He is very sensitive to his clients' need and is great with matching the personality of the landlord with that of the tenant. Junior works to ensure that all parties are happy at the end of the transaction. He is always available for questions or concerns. Junior has such great interaction with his clients that he ends up being your friend or adopted family. It was great working with him, and I recommend him to anyone I know who needs real estate assistance
A.L. Davis
I have used Global Estate Agency as my "go to" for my rental property now for nearly 15 years. The team is professional and efficient and seek to find not just clients but good clients for the property, so as to lessen my worry! I have appreciated the dedication and attention to detail that they have shown to their work, and have readily referred them to others. Junior goes above and beyond with his calm and competent way. It has been and remains a pleasure working with you! Thanks for all that you do to help take the stress out of this process and for helping to find me good tenants!! Much appreciated!!!
Brian Payne
My experience with Junior can only be described as seamless. He was very approachable and was wealth of knowledge. His facilitated the rental of my property quickly, but most importantly I haven't had any challenges with the tenant. He is the quintessential real-estate professional.
Scott M
Junior and his team were fantastic to work with and we couldn't be happier with our new home. Thank you Junior!!
Terri-Anne and Shane
If we had to use one word to describe our experience with Junior, it would be PHENOMENAL. We are currently living overseas, and we contacted Junior to help with finding a tenant for our home in Barbados. He was excellent from start to finish. We've worked with other realtors in the past, but none was as professional as him. He was able to provide us with relevant market information which enabled us to get the best price for our house within this COVID environment. One thing that really stuck with us was how much he looked out for our interest with every offer we received. In all cases, he gave us the best advice to ensure that our experience with our future tenant would be a harmonious one, and since then, it has been. We were absolutely blown away with the way he dealt with us; we'd recommend him to any and everyone. #firstclassservice #GOAT #ourrealtorforlife
Alexei & Ria
When my wife and I decided we were going to relocate to Barbados with our family we knew that we would need someone that was reliable on the ground that would point us in the right direction. With the real estate market being so crazy and overwhelming we quickly realized that finding a rental on our own wasn't as easy as we thought. I must say that we were definitely happy with our choice when it came to choosing our realtor. Junior is the epitome of professionalism. He made the process as easy and as hassle free as possible since we were making most of our arrangements from abroad. He listened to our requests and even made recommendations that was best suited to our needs. I would and I have reccomended Global Estate Agency to anyone that is looking to relocate to Barbados whether temporary or permanently. I look forward to the next chapter in our journey in finding our forever home. Thanks again Junior!!!!
Cheryll-Ann W
Junior can be described in one word....AMAZING! I have had the immense good fortune to know this exceptional human being for well over 14 years. He is a consummate professional, and he consistently goes above and beyond for his clients. Over the years, I referred Junior to a number of very satisfied individual and corporate clients. In 2014, I joined the ranks when I became a forever client of Junior's. I can't say enough about this kind, wonderful, hard-working man.
Winifred H.
Junior is professional and results oriented. His personality makes him approachable, no question is a foolish question. His advice is second to none, he knows his business.
SOG
I relocated to Barbados in early 2020. Junior was referred to me by a good friend who said of my need for a real estate agent..."go to Junior Sparks, he's the best". That was an accurate statement. Junior strikes the right balance between youthful energy and enthusiasm and focused maturity of a seasoned professional. I appreciated his warm and courteous assistance which included picking me up to go view properties as I did not have my own transportation, and his patience in taking the time to understand precisely what I was looking for. Most of all, in a sector which is commission driven, Junior understands the long term value of promoting a brand which favours integrity, quality and satisfaction for his customers. With Junior's assistance, I was able to find a new place to call home in one day. As a satisfied customer, I have and will continue to highly recommend his services.
Alicia N.
From the time I decided to look for a new home, Junior's website was my first go-to-destination. I was not disappointed. Junior is extremely professional, personable and knowledgeable. I was particularly grateful that he was able to give me background information on the property and tips on what I should look for as I scoped out the neighborhood. Suffice it to say, I could not be happier in my new home and neighborhood. I would highly recommend Junior to anyone looking to rent or purchase a property.
Francisco Velez
Very easy to find the appropriate house and close the deal with Junior involved. He is always open and happy to help his customers.
Tracy
What Junior doesn't know about Real estate you could write on the back of a stamp .He is a wealth of knowledge , and I believe the best in his field. Junior was recommended to me by the lady who manages the complex where our apartment was . He is very professional and so friendly and nothing was too much trouble . He was always at the end of an email or call to answer any questions or queries . He replied as promptly as he could due to the time difference , here in England. The photographs of the apartment on the website site were of excellent quality and a very detailed description helped sell the apartment very quickly. I can't recommend Junior and his company enough.Thanks Junior and Global Estate Agency Inc for making the sale of the apartment smooth, quick and stress free
Edwyn W
If there ever was a person who has genuine passion for what they do it's Junior. I have known Junior for years and when I had the opportunity to work with him on a recent purchase I knew I was in good hands. I highly recommend him to anyone who is looking to buy or sell a property.
Claudio M
I have been lucky to have Junior's real estate assistance for over a decade. He has found for me several rental properties but also my dream house in St. James where we now are living in. He is extremely efficient in what he does and has delivered superior outcomes each and every time. I can highly recommend Junior's services.
Tony J
Global Finding a tenant in this COVID-19 period through Global Estate Agency was the key success factor for me, being an overseas landlord. Although the Agency's use of the internet - listing portals, databases, social media and external networks were observed to be invaluable, I am grateful for the professionalism, market knowledge and experience, empathy and availability provided by Junior Sparks. I would highly recommend Junior to anyone looking to rent. Tony, (London)
Sonia Ishmael
Junior has diverse knowledge of the Real Estate climate in Barbados. His professional approach to property consultation, negotiation and management makes him a prime candidate for anyone/company intrested in property investment.
Marlene Johnson
Professional, enthusiastic, achieves results
Andrew Newman
I would recommend anyone looking for a house in Barbados to use Junior.... Always on the end of the phone and always able to help. Even when the problem isn't his to solve.
Robin Belle
Junior was a true professional to work with, answering all queries promptly and co-ordinating everything in a timely and efficient manner. I would certainly use his services again should I have need.
Wenise Davis
Thanks to Mr. Sparks, my relocation to Barbados was made easy!

He is a true professional who takes the time out to understand his clients to meet their needs in the most comfortable and convenient way.

I found him to be extremely reliable and would gladly do business with him again in the future.

He is an extraordinary realtor!
Joseph P. Herde
Having lived and worked throughout the English-speaking Caribbean, I ended up spending alot of time with real estate agents, when seeking accommodations in new places. Junior definitely tops the list, in terms of his market expertise, highly personable nature, and easy-going approach. Whereas it takes some realtors a while to figure out what your tastes are, Junior almost immediately knew what I was looking for, and his relationships with home owners allowed for viewings, even after-hours, and on very short notice. Junior knows his market, and knows his customers, and that's the difference between a good realtor, and a great realtor.
---
Who We Are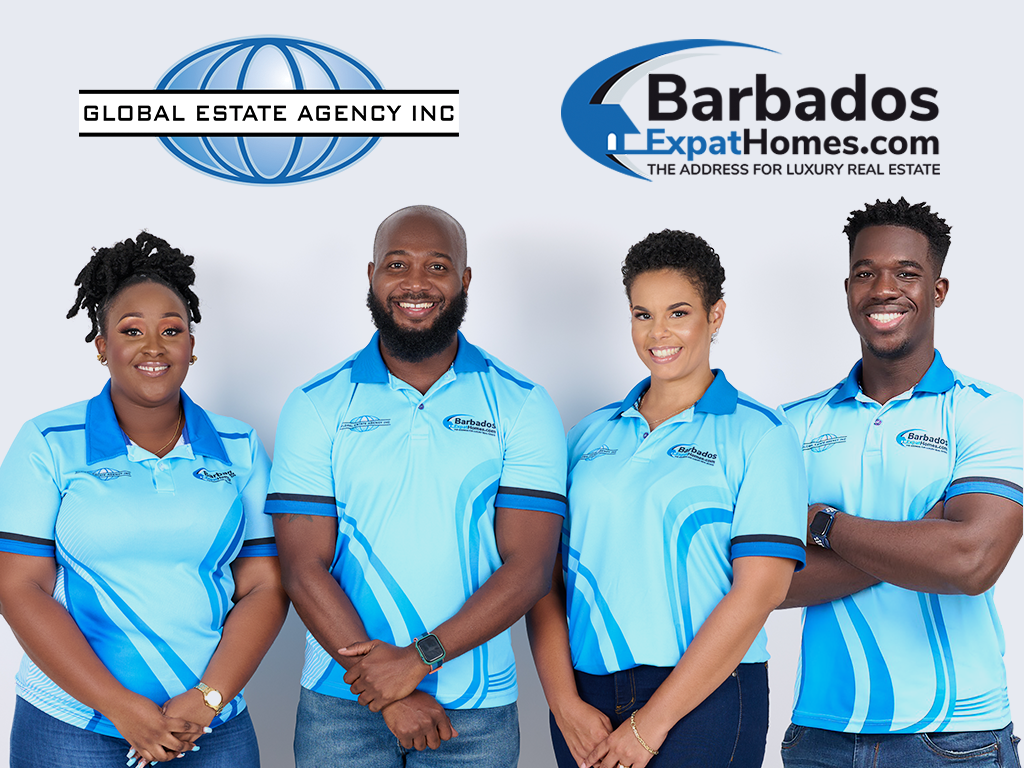 If home is indeed where the heart is, then Global Estate Agency has been the brokerage pulse of the Barbados luxury real estate market since 2003.

View more