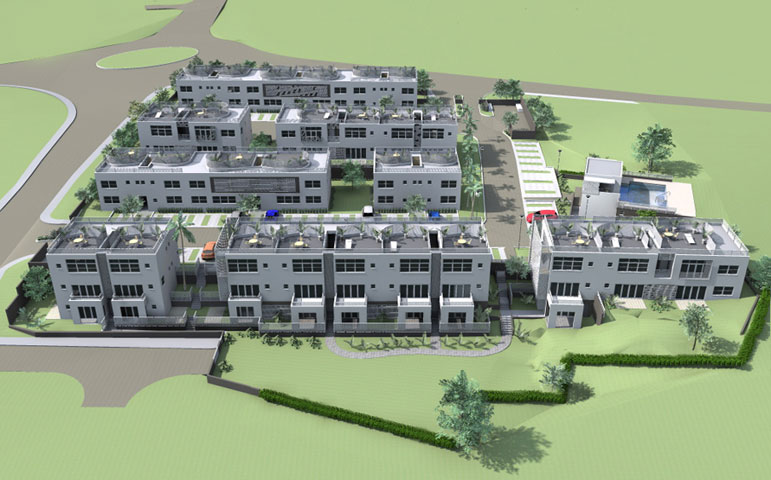 If you are looking for an investment condo with plenty of upside, there is reason to get excited about Boarded Hall Green, this project is from the same developers of Clermont Green and St. Lawrence Beach Condos among others. Their developments do very well in resale and those who bought into their projects in the early stages have consistently done very good on their investment.
The developers has appointed a select few of sales agents for this project, Global Estate Agency Inc., being one of them, we have access to all of the development information and will keep you updated with the latest BHG news.
Boarded Hall Green is a new eco-friendly designed gated Condominium Community. It is situated to the immediate north-west of the new roundabout at the intersection of Boarded Hall, Carmichael and Frere Pilgrim. BHG provides modern, architect-designed living for its occupants, and comprises 6 studios, 26 one-bedroom, 19 two-bedroom apartments and 4 townhouses. Its "green" features include - numerous large trees, shrubs, plants and grassed areas, all irrigated from our on-site waste water treatment plant, energy-saving street lights, recyclable garbage disposal and solar heated water in each unit. There is also a communal pool, with solar powered pumps, plus a gazebo, wet bar, toilet facilities and entertaining area. Also, an on-site property management office. Fibre optic cable will run to each Unit to accommodate telephone, cable TV and Hi-speed internet access.
The neighbourhood is centrally located with easy access to Bridgetown, the South Coast and ABC Highway, but its view overlooking the St. George Valley offers a countryside feel.
Show More
---